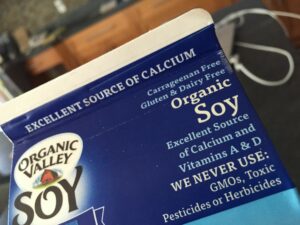 Not every ingredient in a natural food product may be good for you. There is evidence that carrageenan, a gum derived from seaweed and allowed in organic and natural foods as a stabilizer may be causing a host of gut problems.
According to Joanne Tobacman, MD, associate professor of clinical medicine at the University of Illinois School of Medicine at Chicago and a carrageenan researcher, "carrageenan predictably causes inflammation, which can lead to ulcerations and bleeding". Previous research showed a link between carrageenan and stomach cancer in laboratory animals.
Cornucopia Institute, an organic watchdog group was critical of carrageenan's use in organics and launched a nationwide petition urging the FDA to ban the ingredient from the food supply. Recently, a number of organic food companies including Organic Valley, voluntarily removed carrageenan from their ingredient labels.
In its place is gellan gum–a water soluble high molecular weight polysaccharide that is produced through the fermentation of carbohydrates in algae by the bacterium Pseudomonas elodea.
This fermented carbohydrate is purified with isopropyl alcohol, then dried and milled producing a powder. Then it's added to most plant-based beverages found in the dairy case and on supermarket shelves.
We may eventually find out that consuming gellan gum may also cause gastrointestinal problems.
If food companies printed "shake well" on the labels, stabilizers like carrageenan and gellan gum would not be needed in plant-based beverages and other food products. However, consumers must be knowledgeable and willing to give up convenience in exchange for products that are safer.
Eden Foods claims to have the only U.S. soy milk made in the most natural way. You can read about it here: http://www.edenfoods.com/store/original-edensoy-organic-soymilk.html.
Pick up a copy of "Beyond The Mediterranean Diet: European Secrets Of The Super-Healthy," for the simplest way to a healthy lifestyle with a guide to food shopping, dining out featuring 50 easy and delicious recipes for everyday living.