According to the World Travel and Tourism Council, the travel and tourism industry continues to grow at a faster pace than the global economy. People who have the time and resources enjoy the sense of adventure that comes along with the travel experience. However, traveling from one place to another creates challenges and often feels more like work than a vacation.
Here's why:
1) Nonstop flights and luxury accommodations are expensive.
2) Tight airline connections often leave travelers stranded in busy airports where services are subpar.
3) Unforeseen airline delays and cancellations due to bad weather and malfunctioning equipment leave travelers sitting on the tarmac for hours without air circulation or food.
4) Airline companies and airports offer few healthy food choices.
5) Planes, ships, buses and other commercial transportation vehicles often operate under unsanitary conditions.
3) For those with a large body mass, the thought of being confined to a small space can be horrifying.
4) Jet lag, the feeling of tiredness and confusion after a long aircraft journey often persists for several days and may put a damper on a vacation.
So how does one diminish the stress of travel and make the most out of the travel experience? It's called slow travel and I met up with expert and colleague Robyn Webb, author of the award-winning book, The Paris Vacation Apartment Guide: Rent With Confidence-Learn Where To Stay Without Getting Overwhelmed, Ripped-off or Scammed! — to gain insight into this trending type of travel.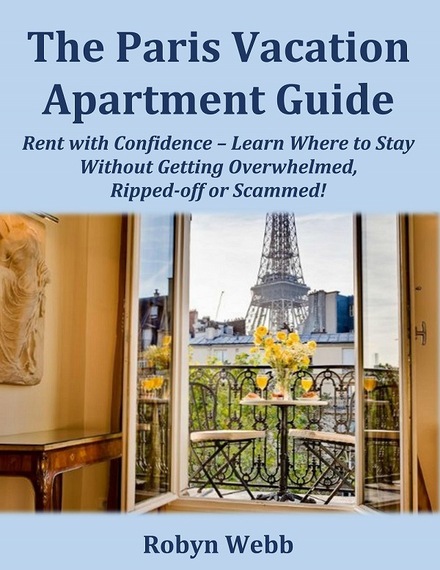 Q & A with Robyn Webb:

1) Please define slow travel. Where did the term originate? Slow travel is the complete opposite of "If it's Tuesday, it must be Belgium!" All kidding aside, slow travel really means taking your time to explore a location, it's people, the culture, the food; in other words it's a complete immersion with time to "smell the roses" It's about experiencing things not just ticking them off on a list. It can also mean establishing routine when you travel- visiting the same flower market each day, patronizing the same bakery, etc.
I'm really not sure where the term first originated, but it's one heck of a concept, don't you think?!
2) Is this a new trend in travel and why? What are demographics are those choosing this type of travel? Is this for retirees? It isn't a necessarily a brand new trend in traveling, it's just that most Americans take such limited time for vacations, they tend to want to cram in as much as they can in a short time. So I think slow travel, while not new, simply is not practiced by the masses. While retirees certainly may have the time for slow travel, I have run into younger groups on my travels that stay in one city or town, create a base and choose deeper, more meaningful experiences than running ragged.
3) For those people don't have time or resources, how can they have a similar experience? You know slow travel doesn't necessarily mean leaving town. You can slow down at home and explore your own surroundings like you've never done before. We are all guilty of limited participation in the activities we live around because we think we have endless time to experience them. Playing tourist in your own town can open your eyes to see your home in a whole new way.
4) Why choose this type? Seems like cruise travel is opposite-offering glimpses of many places/cultures. Please comment. There is absolutely nothing wrong with a trip that's like a "buffet"- offering up different samples for you to discover what you like and don't like. But slow travel is an entirely different concept. On a cruise for example, you'll never have an opportunity to know a cafe owner you might visit daily to really discover a culture in depth. Travel to many places on one trip is more based on seeing and doing rather than experiencing.
5) How does slow travel impact your health since it takes you out of routine for extended time, which for many 'routine" is essential to developing healthy behaviors? Actually slow travel helps you keep up your routine. If you are rooted in one place, you can keep up the same things you do at home- there is no pressure to fit in one more museum, monument, etc. For example when I'm in Paris, I still exercise every day, then choose 1 main activity for the day, rest and downtime, and leisurely evening. Rather than cramming in every moment, you can make room for the healthy routines you may have established at home and won't lose on travel.
6) What are your personal experiences with slow travel–to where and for how long? Most of my slow travel centers on the city of Paris- my favorite place on earth. I rent an apartment, cook some meals, run in one of the parks and choose only 1 to 2 main activities for the day. I usually visit anywhere from 3 weeks to several months.
7) Are there travel agencies or websites that help organize accommodations and provide guidance? I'd recommend the website: www.theartofslowtravel.com. You'll feel instantly less stressed when you settle in for a good read!
For three years, my home base was Switzerland where I researched and wrote my diet, lifestyle and cookbook Beyond The Mediterranean Diet: European Secrets Of The Super-Healthy. For me, slow travel offered the unique opportunity to explore a variety of cultures with a window into how others live, eat and view the world. It's a life-altering experience allowing for new perspectives and creative ideas to emerge. Immersing oneself in a foreign culture and making new friends can be as refreshing as it was on the first day of school.