Just a few years ago, you could hardly find Greek yogurt in the supermarket dairy case. Today, it's one of the hottest food trends. Besides eating it right out of the container, Greek yogurt has other applications in the kitchen. The creamy thick texture lends itself to being used in baking and as a base for sauces in a host of both sweet and savory dishes. Like traditional yogurt, the Greek-type contains *live and active cultures, yet it is lower in lactose and has twice the protein content.
*Note that live and active cultures are microbes associated with foods, often as food fermentation agents. Many of these have not been directly tested for health benefits. Probiotics are live microbes that have been shown to have a health effect.
I recently met up with my colleague Toby Amidor, MS, RD, nutrition expert and author of The Greek Yogurt Kitchen: More Than 130 Delicious, Healthy Recipes for Every Meal of the Day. Here Toby answers questions about Greek yogurt and shares a recipe from her cookbook.
Is today's Greek yogurt, really like traditional Greek yogurt?
Greek yogurt is really strained yogurt. Once what today is known as traditional yogurt is strained and the whey is removed it turns into a thick, creamy and tangy yogurt. Greek yogurt in the US in made with cow's milk. Some countries use goat's milk to make Greek (or strained) yogurt so the flavor would be different.
Is there a different name for it in Greece? Tell us about the history of Greek yogurt and how it relates to today's version found in supermarkets.
Greek yogurt isn't actually from Greece, though the thick yogurt is consumed regularly in Greece. Many history books attribute the discovery of yogurt to an accident around 6000 BCE, when the Neolithic folks of Central Asia began the practice of milking their domestic animals. The milk was likely stored and carried in bags made from the animals' stomach, which contains bacteria and natural enzymes, which curdled the milk, thereby creating yogurt. Africa, India, and Arab countries also have traditional cultured milk dishes, several of which are created by straining yogurt.
Today's versions are created one of two ways. The first is by more traditional straining methods, while other companies choose to use additives that will create the same thick, creamy yogurt without expensive straining methods being used.
Lemon-Blueberry Stuffed French Toast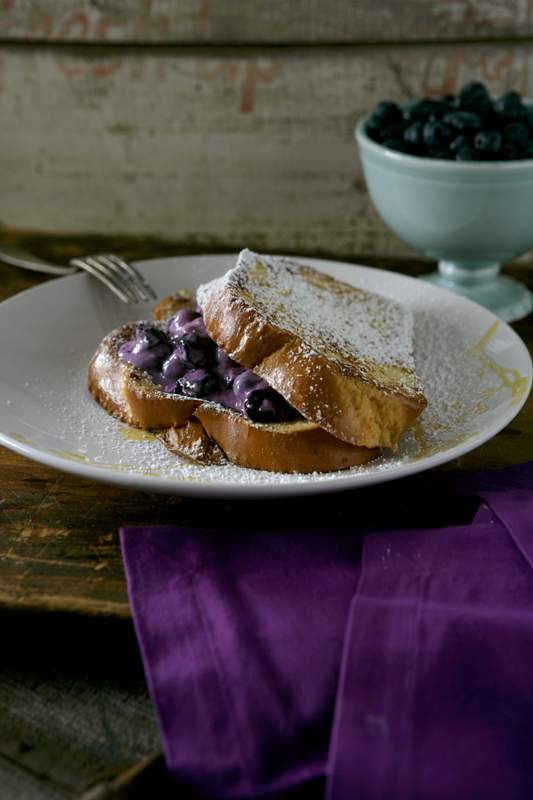 Ingredients:
Cooking spray
1 cup nonfat milk
4 large eggs
1 tablespoon vanilla extract
½ teaspoon ground cinnamon
½ loaf challah bread, preferably whole wheat
1 ¼ cups fresh or frozen blueberries (thawed if frozen)
¼ cup nonfat lemon Greek yogurt
1 tablespoon confectioners' sugar
Directions:
Coat a large skillet with cooking spray. Heat it on the stove over medium-low heat.
In a medium bowl, whisk together the milk, eggs, vanilla extract, and cinnamon. Cut the challah into eight ½-inch-thick slices. Submerge half the slices in the egg mixture, being sure to moisten both sides. Then place soaked slices on the heated skillet and cook until golden brown, about 7 minutes. Flip and cook on the other side until browned, about 5 minutes. Remove from the skillet and keep warm. Spray skillet with cooking spray and repeat with the remaining challah slices.
To make the filling, mash the blueberries and lemon yogurt together in a small bowl.
To assemble each stuffed French toast, place 1 piece of French toast on a plate. Spread ¼ cup of the lemon-blueberry mixture over the bread. Top with another piece of French toast, and slice in half. Just before serving, sprinkle the confectioners' sugar evenly over the stuffed French toast.
SERVES 4.
SERVING SIZE: 1 stuffed French toast
NUTRITION INFORMATION (PER SERVING): Calories: 379; Total Fat: 9 grams; Saturated Fat: 3 grams; Protein: 19 grams; Total Carbohydrates: 53 grams; Sugars: 19 grams; Fiber: 6 grams; Cholesterol: 232 milligrams; Sodium: 438 milligrams
Recipe courtesy of:
Toby Amidor currently works as:
-Ambassador for National Dairy Council
– Member of Dannon's Yogurt Board